Our offices will be closed Monday, January 17, 2022, in observance of Martin Luther King Jr. Day.
Temporary Office Hours
Tuesday, January 18 through Friday, January 21
8:00 a.m.-Noon
Lobby is currently closed.
Drive through is open.
You may call the office at
(405)275-8200 to speak with staff or to make an appointment.
If you have any other questions or concerns, e-mail cthomas@hasfn.net.
For maintenance emergencies,
call (405)317-0335.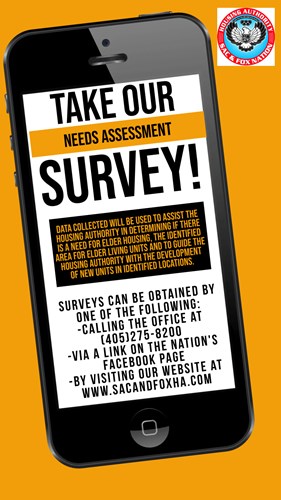 Please take our Housing Needs Assessment Survey!
Surveys may be taken online by clicking here or via the Sac and Fox Nation's Facebook page
OR
Surveys may be obtained by calling the Housing Authority at (405)275-8200.
***************************  IMPORTANT NOTICE  ****************************
Emergency Rental Assistance Program Flyer
 Homeowner Assistance Fund Flyer
HASFN can now accept online house/rent payments.  Please select the payment tab at the top of the page and follow the instructions to make your house/rent payment.
The Office is OPEN to the public.
Upon entering the HASFN buildings face masks are required
If you are sick or have a fever, please refrain from coming to the office.  Call instead.
Housing Authority of the Sac and Fox Nation is committed to doing everything we can to ensure the health and well-being of our residents.  We want to keep you informed about the HASFN's response to the presence of the COVID-19 virus in Oklahoma.  We are taking extra measures, including frequent sanitation of common areas in the HASFN building to help keep our tenants, staff, partners and community safe. 
Updated Letter to Tenants Regarding COVID-19 dated 3-18-2020
Letter to Tenants Regarding COVID-19 - 3-13-2020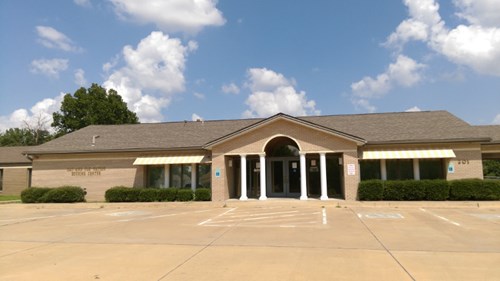 Our Mission Statement
To provide decent, safe, sanitary and affordable housing to eligible, low income Sac & Fox tribal members, elders, and other Native Americans. Also to provide employment opportunities for Sac & Fox tribal members and other Native Americans.
Attention all tenants, please contact the Housing Authority of the Sac and Fox Nation to report any storm damage as soon as possible at 405-275-8200.
Attention:
Drive-thru window and Payment window hours:
8 a.m. - 4:30 p.m. Mon-Fri
Drop-box available 24/7 
***We do not accept cash for payments***
Payments can be made in person, over the phone or online. We accept the following Credit Cards:


Please call and speak with someone in the Finance Department at 405-275-8200 if you have any questions.
  If the Sac and Fox Nation offices are closed for inclement weather, the Housing Authority office will be closed.  Executive Director shall have the authority and discretion to close the office if necessary or prudent to protect the safety of the Housing Authority personnel.  Please call 405-275-8200, if you have any questions. 
***For after hour emergency work orders please call 405-317-0335***